The tags themselves can be upgraded from paper to plastic. Investment in safeguarding equipment and training will be lost if the lock-out tag is not durable. The tag, after all, is the last line of defense against a potentially lethal mistake.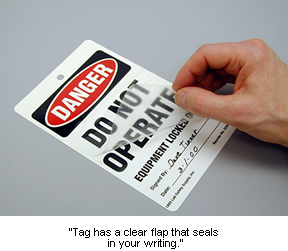 Plastic tags resist oil, sunlight and oil attack. In contrast, paper tags mildew, rip and become illegible in the rain. Putting a paper tag into a plastic bag can be even worse — the bag creates the greenhouse conditions that can accelerate a tag's deterioration. Tags should have a 3/8" hole to accommodate the width of a lock shank. OSHA's guidelines define that the tagout device shall have "an unlocking strength of no less than 50 pounds" 1910.147 §(c )(5)(C )(2).
Tags need to be easily removable at the end of the work cycle. Old, redundant tags can corrupt the integrity of your program. Having a small slot or perforation allows personnel to rip it in half and remove it when the job is complete.
Historically, there have been many ways to attach a tag: cotton string, nylon cords, wire, ball chain and ties. OSHA 1910.147 is quite clear though: "the employer is required to provide a means of tagout device attachment having the general design and basic characteristics of being at least equivalent to a one-piece, all environment-tolerant nylon cable tie" OSHA 1910.147(c)(5)(ii)(C)(1). When asked to rule on the suitability of using a cord, an OSHA officer writes, "Neither the cords nor the tag appear to be all environment-tolerant, that is, if wet, neither would hold up."
Also, remember that tags should be temporary. The integrity of your LOTO program depends on old tags being discarded or logged out. Old, redundant tags can corrupt the integrity of your program. Some users even request that a perforated section of the tag so that the tag stub can be sent back to the office to record a completed job.
Above all, make the tag conspicuous. Remember that the tag is guarding someone's life and must stand out. Fluorescent colors or a striped border can be used to help the tag stand out.
The ANSI standard for lockout and safety tags , Z535, shifts the design away from the traditional OSHA designs. The simpler Danger header using the signal alert triangle is emphasized (see top), instead of the traditional Danger design using the red and white oval shapes (see bottom).


Make tags large enough to read. A blocking tag must be filled out completely. Leaving too little room to complete and will frustrates the operator. In a hurry, he will often sloppily complete the tag. The next worker, who is then deciding which switch to energize may, for example, be too vain to admit that he needs bifocals. This is a recipe for disaster. Larger tags allow the Danger header to be sized big enough to meet the OSHA 1910.145 requirement; the signal word should be "readable at a distance of five feet or such greater distance as warranted by the hazard."
Lastly, it is important not to forget the back of the tag. The best tags give instructions on the back of the tag on how to follow your LOTO procedures.
Many LOTO programs have not fulfilled their promise. Employees too often feel like bystanders to an arbitrary management procedure. Training programs tailored to your work environment will help change these attitudes. Durable, easy to fill-out and understand tags that are integrated with your work procedures reinforce the importance of your LOTO program and empower the employee. Both initiatives signal a fundamental respect for the employee's safety and that means fewer needless accidents.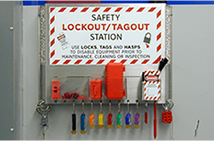 •

OSHA 1910.147, Control of Hazardous Energy Source (Lock-Out/Tag-Out), 1989

•

OSHA 1910.269, Electric Power Generation, Transmission and Distribution; Electrical Protective Equipment, 1994

•

OSHA 1910.145, Specifications for Accident Prevention Signs and Tags, 1971.

•

ANSI Z244.1, For Personnel Protection- Lockout/Tagout of Energy Sources- Minimum Safety Requirements.

•

ANSI Z535.5, American National Standards. Accident Prevention Tags (for Temporary Hazards).